Today Mark Pearce, CEO of Volunteering Australia provided a statement regarding the Sydney Morning Herald's article about the Federal Government's initiative, placing volunteers into aged care facilities across the nation. Volunteering Queensland is supportive of Volunteering Australia's position.
"Volunteering Australia is pleased to be working with the federal Department of Health to explore options for recruiting more volunteers into residential aged care facilities. Volunteers are already a vital part of the aged care workforce and will continue to play an important role in providing social support to residents in aged care, particularly important during these difficult times. We will be working closely with the Department to make sure volunteers have the necessary support and protections (such as Rapid Antigen Tests and PPE), to ensure the wellbeing of both volunteers and residents.
Mark Pearce
Chief Executive Officer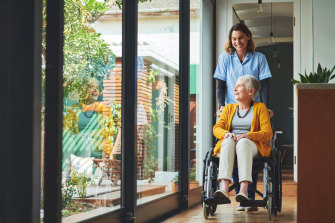 The federal government is recruiting volunteers to fill staff shortages in aged care — a move criticised by Labor and unions as "miserly" and "a cop-out" after a slow rollout of Defence Force support.
The Health Department has asked Volunteering Australia to sign up thousands of people to answer phones, talk with residents, brush their hair and help them exercise, and restock masks, freeing up overworked staff for showering, wound dressing and medication management.
Health Services Union NSW secretary Gerard Hayes said the plan was "a cop-out" and a "cheap trick" by a government that had "under-resourced the aged care industry for so long".